Marnixstraat 200-210, Amsterdam
In the Marnixstraat, between the Rozengracht and Elandsgracht, Aurelio is renovating two 19th century monumental apartment buildings. On commission by Aurelio, these buildings are to be converted into 36 apartments, 14 of which are in the first and 22 – plus a commercial space – are in the second block. The buildings will be provided with new foundations, new roofs and new dormer windows; moreover their facades will be restored. The houses will be renovated and modernized while retaining original features such as ensuite rooms, stone fireplaces, monumental ceilings and wainscoting. At the rear side balconies will be constructed that are overlooking a green concealed neighborhood square, as soon as the surrounding buildings are finished. In short: a unique, safe and attractive place to live and work in, in the very heart of Amsterdam.
See this link of the image from the site of the municipality of Amsterdam:
Achtergrond: The buildings date from the 19th century, when fresh fruit and vegetables were daily transported by boat to the Groenmarkt and the nearby Appeltjesmarkt, in order to be traded there. Many of the original buildings are gone. These blocks are the last architectural witnesses of the historical situation and are therefore considered to be very valuable.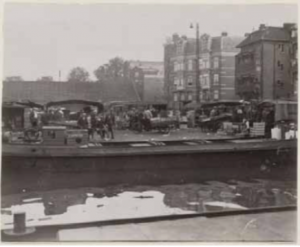 Former fruit and vegetable market
Status: Start of the reconstruction is scheduled for June 24, 2016
| | |
| --- | --- |
| Project: | Marnixstraat 200-210, Amsterdam |
| Use: | Home/For rent |
| Surface GBO: | Between ca. 40 en 70 m2 |
| | |